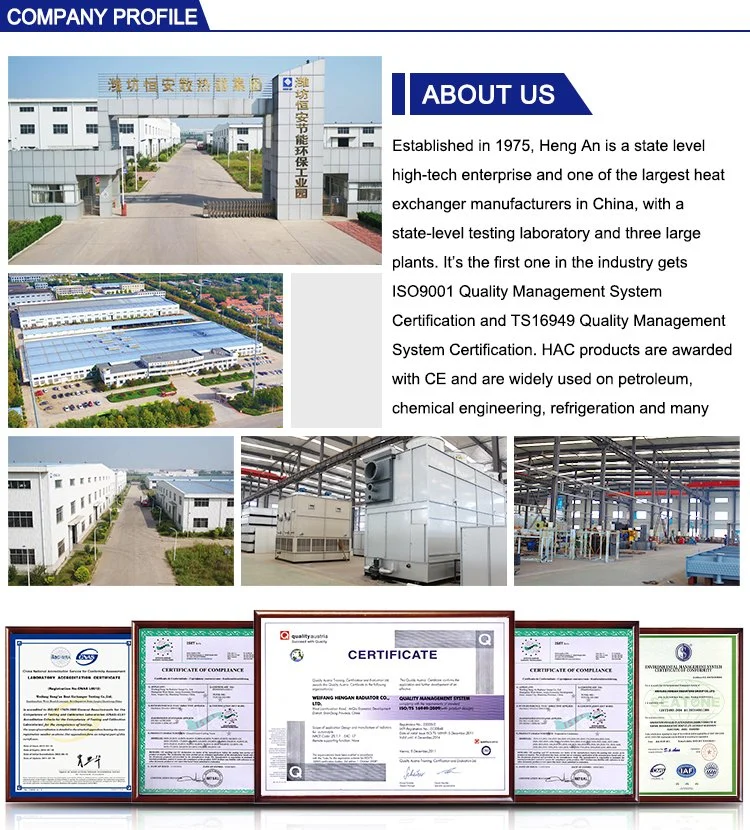 Weifang Heng An Imp.&Exp. Co.,Ltd mainly do Closed circuit Cooling tower and Evaporative Condenser. They are applicable to many fields, such like Commerical and Industrial process cooling. Whatever is Eenergy chemical industry,Electricity,Industrial refrigeration, beer and beverage, Food processing,The cold storage,etc.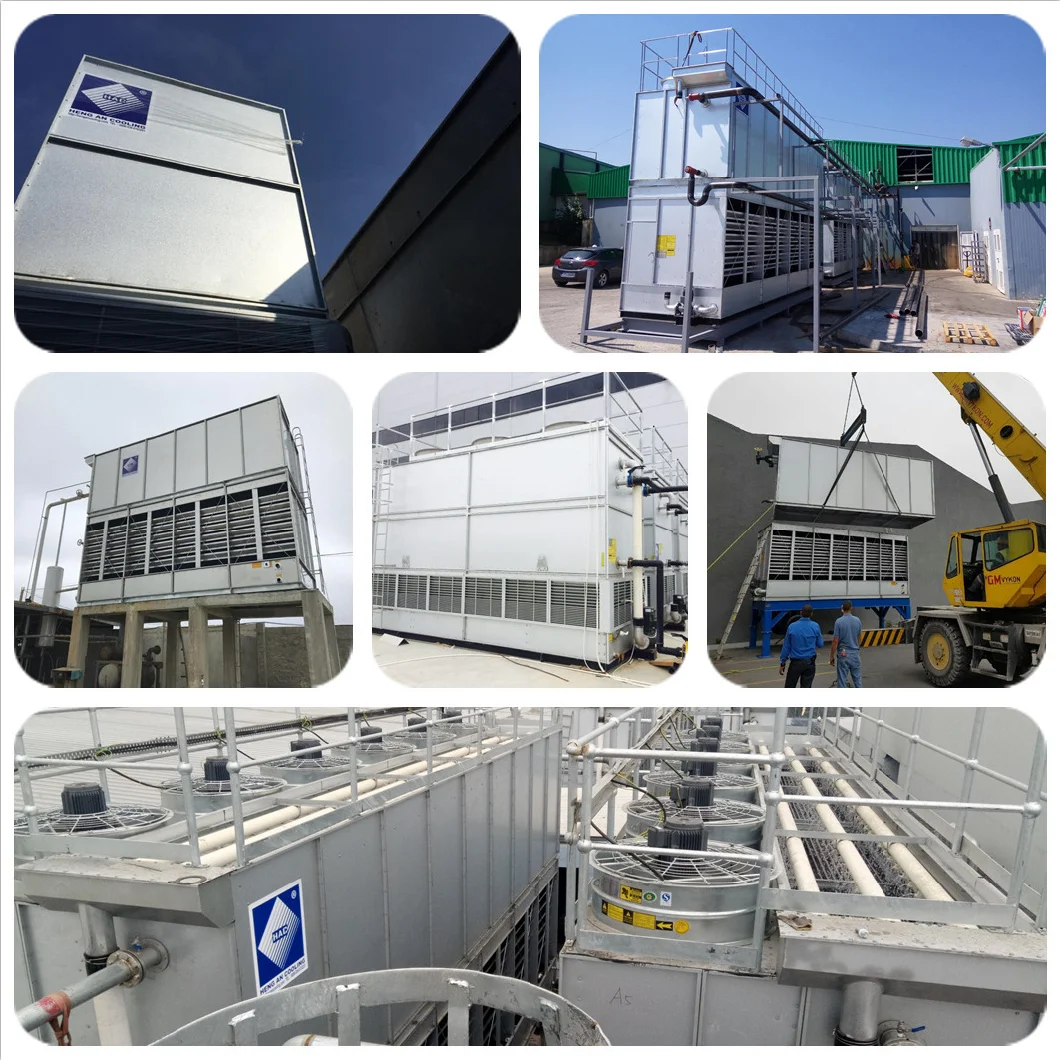 As a customer, when you choosen a equipment, you need to pay attention to these points, and they are the important for the cooling tower and evaporative condenser.


* Fan
Special axial flow type fan, with forward tilting blades and streamline cylinder, direct driven no belt. All motors are Siemens or WEG brand, has advantages of compact size, light weight, good start performance, durable and reliable abilities. Compared with same level centrifugal fan system, axial flow type need half motor power only, effectively saves energy.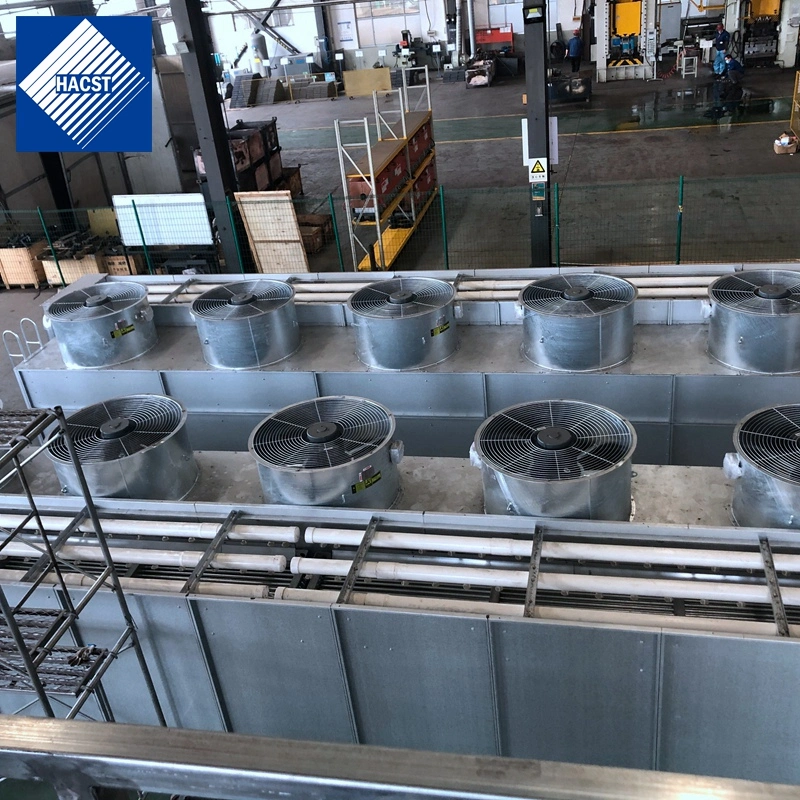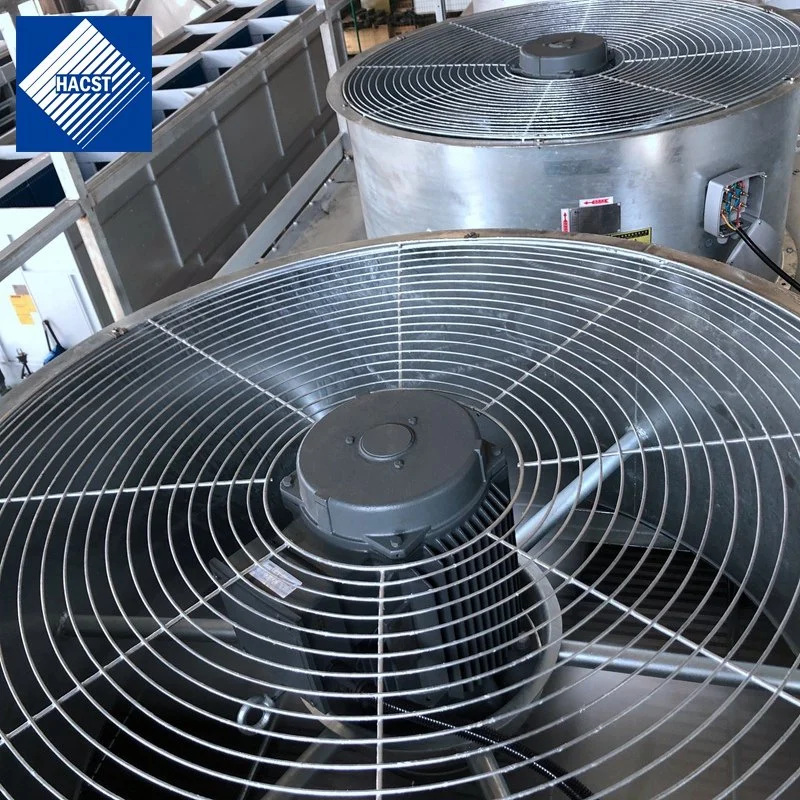 *Spraying pump


The spraying water pump designed with high-quality non-steering restricted mechanical seal, no leakage and long lifespan. Adopted Simens or WEG brand special outdoor type motors and equiped with imported bearings, which could guarantee its long-term operation, low noise, and high performance.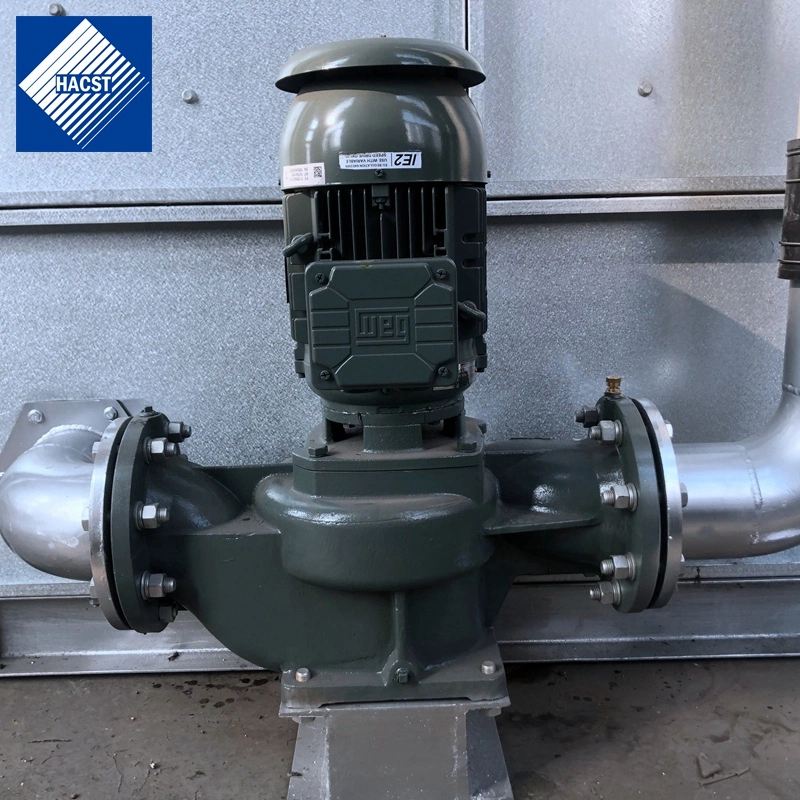 *SS304/316L OR Aluminum-Zinc Alloy Plate Casing
Besides stainless steel plate, Aluminum-Zinc Alloy plate is also available for equipment casing. Aluminum-Zinc Alloy plate is one of the plates with stringest corrosion-resistance characteristics, and its lifetime is 3 to 6 times of common galvanized steel, with advantages of heat resistance, high temperature resistance, becautiful appearance and so on.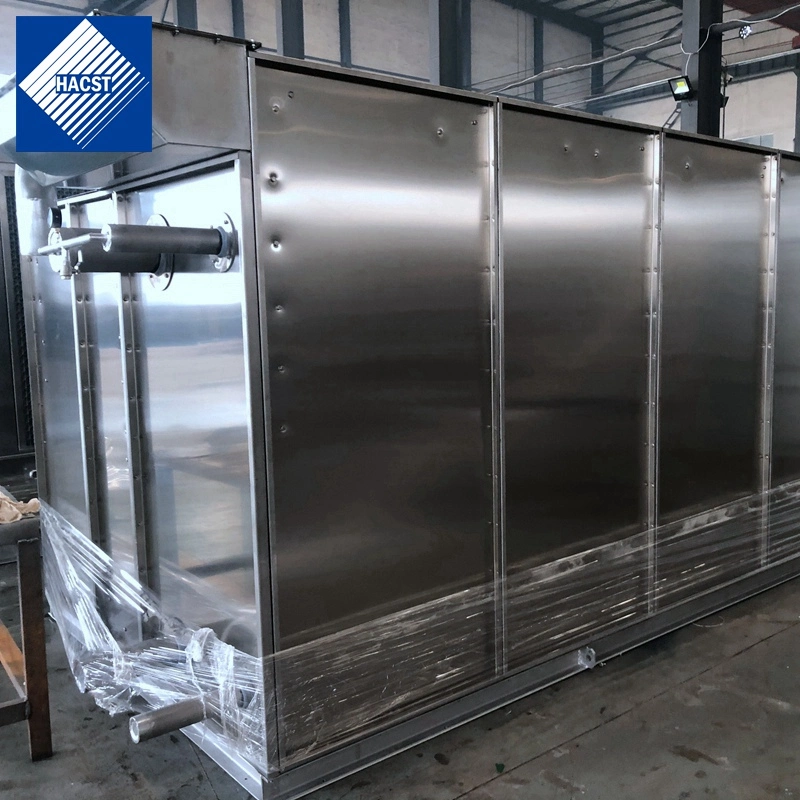 *Heat Exchange Coil
The Heat Exchang Coil is made bu top quality steel pipe. For closed circuit cooling tower, red copper, stainless steel, and galvanized steel available. For evaporative condenser, stainless steel and galvanized steel selected mostly. And the galvanized steel coil is made by top quality seamless steel pipe, strong pressure resistance. Till now the biggest operating presure of coil we designed reach to 30mpa, far more than the competitors level. Various type coil tube availiable which depends on operating requirements,such like Elliptical tube, Finned tube, Wave tube, Compound type coils.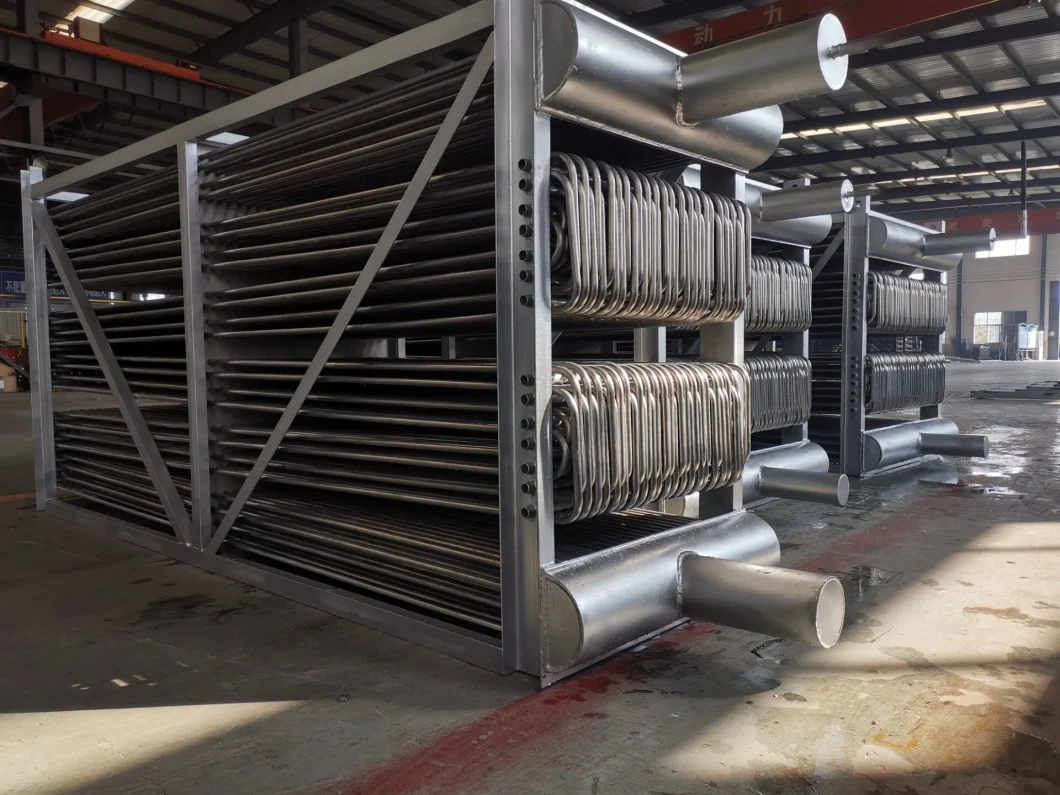 *Advanced Water Dusrrubution System
Large dscharge and anti-blockage nozzles equiped in water spraying system, which ensures cooling water spraying on coil surface continuously and evenly, makea high efficient heat exchange between air, spraying water and cooling media. Removable nozzles are easy for mainteance and cleaning.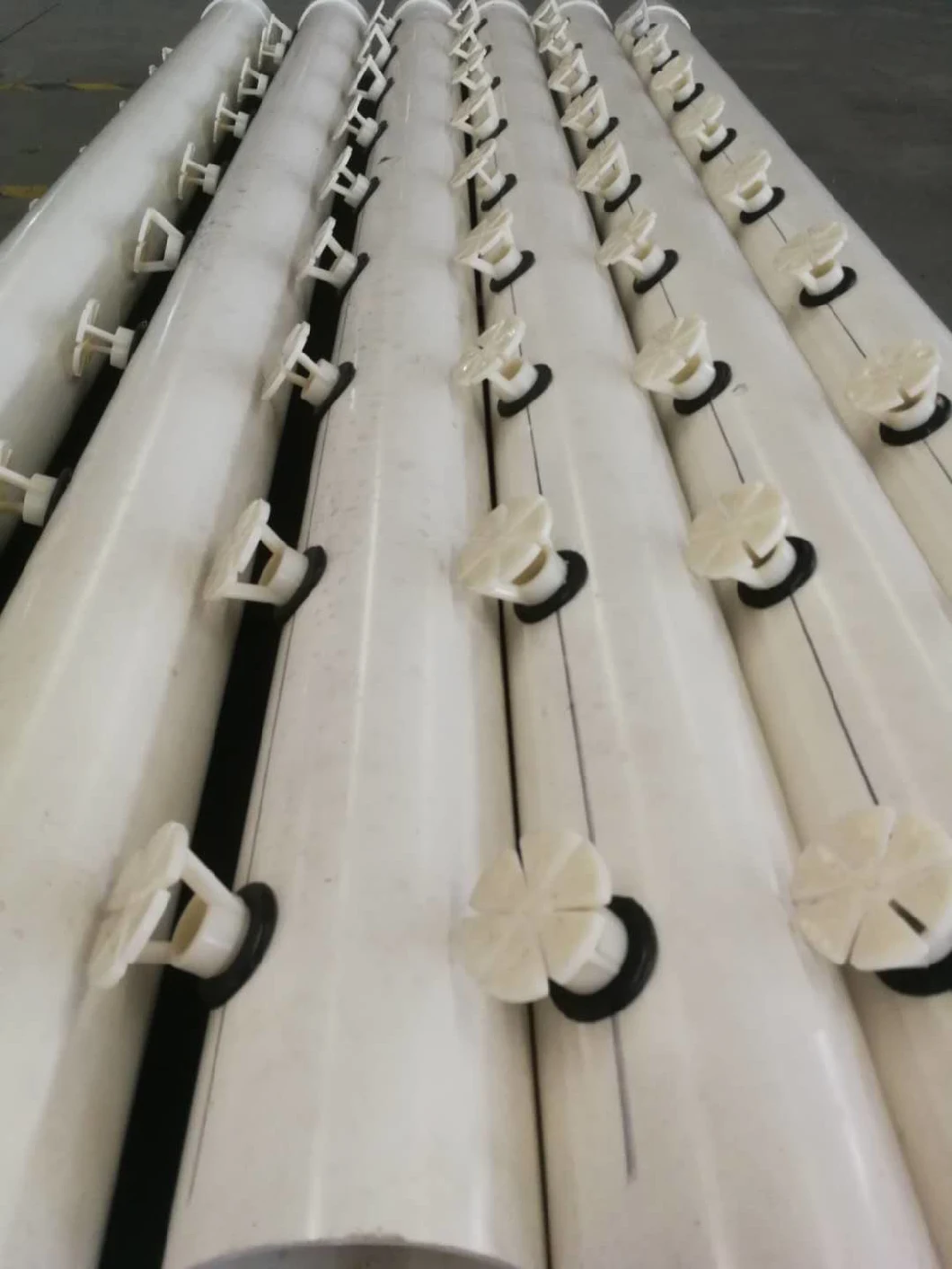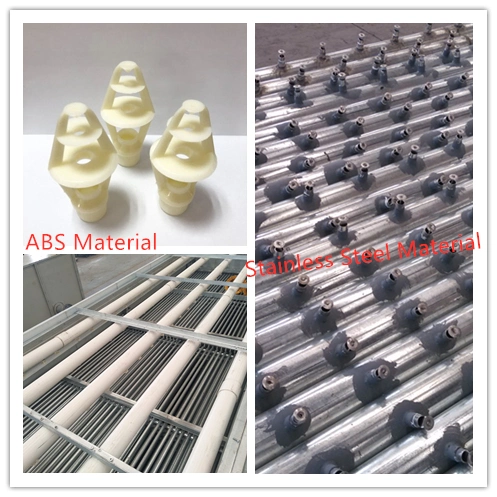 *PVC Fills
Cross flow type honeycomb PVC infill, special designed wth distinctive big surfance area air channel where spraying water flow as a big water film and enlarge water flow time inside of infill, to extend the water cooling effect. And have advantages of small drag coefficient, anti-aging, no easy to deformation.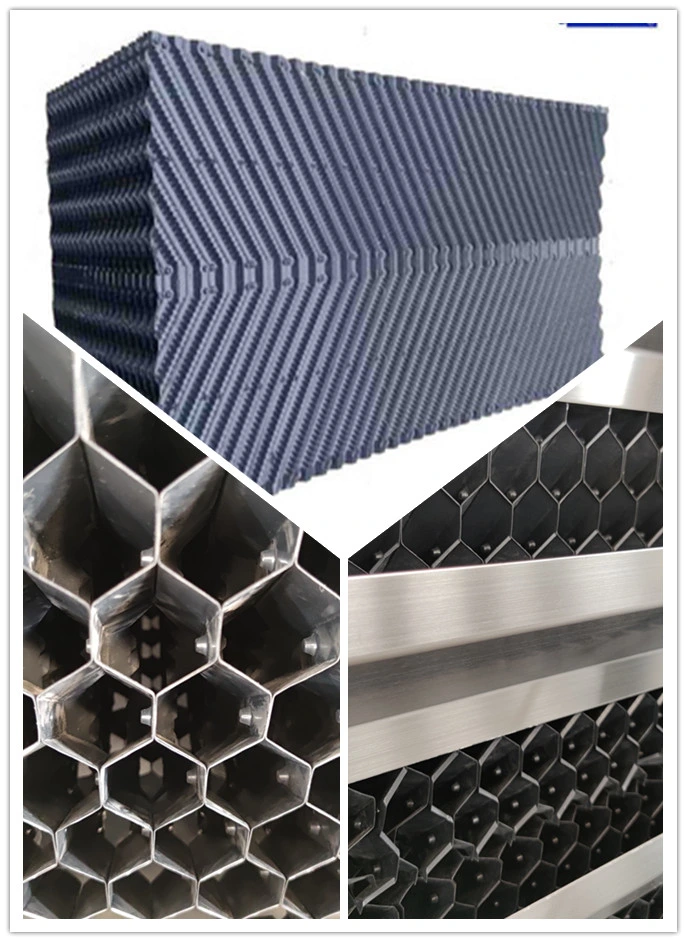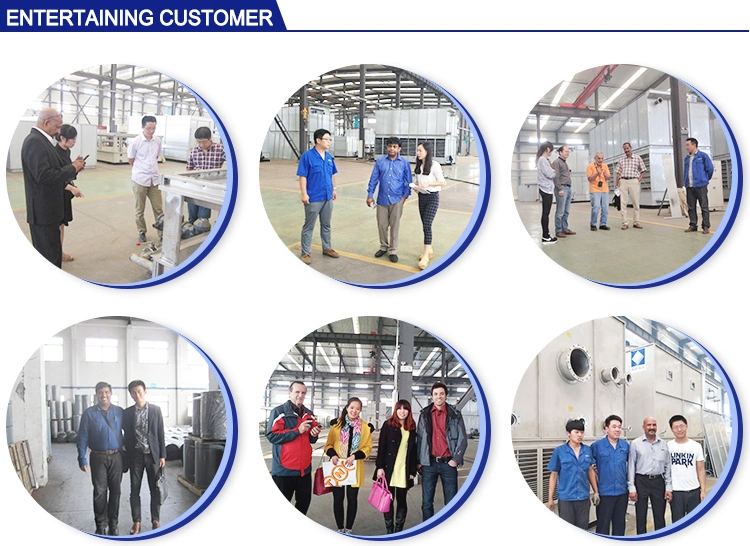 FAQ
Q: How to Guarantee The Quality

?
A: We have our factory.We are experts in our industry and have operated for more than 40 years.We always adhere to the policy of"high quality, low price, all-round service".

Q: Can It Be Customized ?
A: Of course YES.We will according to your requirements for customized products carefully.And then conduct in-depth analysis.Finally, we are committed to meeting your expectations for this customization.

Q: What About The Delivery Time ?
A: Usually,We will deliver the goods in two weeks.If we need customization,the delivery time will be about 30 days according to the actual situation.

Q: What About the Warranty ?
A: Within 1 year from the factory.If the parts are faulty or damaged (due to quality problems, except for worn parts),our company will provide these parts free of charge.

Q: What About The Terms Of Payment ?
A: 100% wire transfer,Signature of L / C Western Union or trade guarantee order recommendation before shipment.